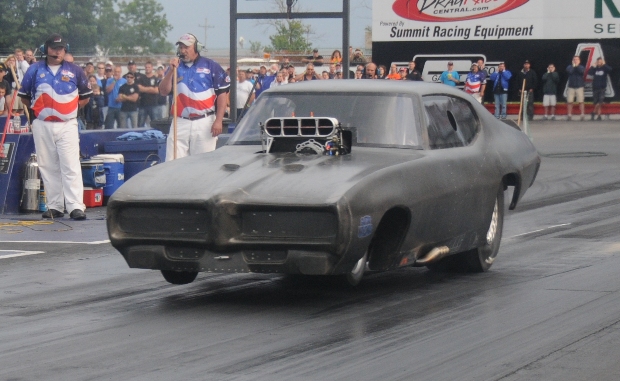 Steve Dale BLASTED on to the fastest . Pontiacs . ever list June 13, 2013 with an amazing 6.11 ET @ 228.89 mph pass at Virginia Motor Sports Park.  Steve came out of nowhere and jumped right to the top of the list with that pass.   Steve held the top spot for about 1.5 years before being over taken.   Rumor has it, Steve's 1969 GTO F/C is under going some changes!

Driver Info:

Name:

Steve Dale

Age:

47

Residence:

Rapid City, South Dakota

Engine Info:

Engine Builder:

Dave Wilcox, Powatan, Virginia

CID:

505

Block:

IA2

Production Year:

2007

Bore:

4.350

Stroke:

4.250

Crankshaft:

Crower billet 3" mains/BBC

Rods:

R&R 6.7

Bearings:

King

Pistons:

J&E

Rings:

Compression Ratio:

11 to 1

Manufacturer and Type:

All Pontiac Tigers

Heads ported by:

Dave Wilcox

Chamber size:

Flow #s (Intake & Exhaust)

480 intake / 350 exh

Intake valve size:

2.3

Exhaust valve size:

1.6


Type: (solid flat, hyd flat, hyd roller, solid roller)

Solid Roller
Brand:
Comp Cams
Lift:
Duration @ .050
Advertised duration:
Lobe Separation:
114
Installed position:
110
Firing Order (standard /4/7 swap / LS1):
4/7 swap
Cam size (standard / 50mm / 55mm etc):
55mm
Rocker Arm (manufacturer & ratio):
Jesel 1.90
Pushrod (manufacturer / length / wall thickness):
Long and thick
Lifter (manufacturer / type / size):
Comp offset
Power Adder description (blower / turbo size type etc.):
PSI D-rotor screw
Boost reached:
40 psi
NO2 (shot size / # of stages)
Fogger or Plate:
Manufacturer of system:
Fuel Type (pump gas / alky / VP 110 etc.):
Alky
Fuel Pump:
Rage
Intake Manifold:
Dave Wilcox
Carb (type / size / manufacturer / injected):
Injected
# of Carbs:
Spacer Plate / Thickness:
Distributor:
MSD 44-amp mag
Wires:
MSD
Coil:
MSD
Plugs:
NGK
Timing:
31 degrees
Ignition Box / Amplifier (MSD etc.):
MSD
Car Info:
Headers (manufacturer)
WRC zoomies
Primary Tube:
2.5 "
Collector:
Exhaust Pipes:
Mufflers:
Crossover:
Transmission:
Lenco
Trans Built by:
Converter (manufacturer & stall)
Neil Chance
Converter Size (9" / 10" etc.):
9"
Clutch Manufacturer:
Clutch Size:
Rear End Gear:
4.11 to 1
Spool or Locker:
Mark Williams
Shifter:
ACD
Axels (manufacturer & spline count):
Mark Williams 40-spline
Year Built:
Race wight with driver:
2410 lbs
Chassis Built by:
Model:
1969 Pontiac GTO
Body Work & Paint:
Tires - Front:
Hoosier
Tires - Rear:
Hoosier
Wheels / Rims - Front:
Weld
Wheels / Rims - Back:
Weld Delta
Chassis Mods:
During the day, I'm an air ambulance pilot, and on weekends I race Pontiacs like I've been doing for 30 years.
A special thanks goes out to Jeff Robertson of Roanoke, VA, who tunes the car, and without his help, I wouldn't be where I am today; Joe Wetsch of WRC Racecars in Bismarck, ND-- for the amazing work that he did in transforming the Dirty Bird into Goateus Maximus; Dave Wilcox--for his ongoing knowledge and support; my family--for putting up with my need for speed and helping me reach this dream. More to come; we'll see you next year!


Timeslip:

6.118 @ 228.89 mph
This gallery contains 3 photos.